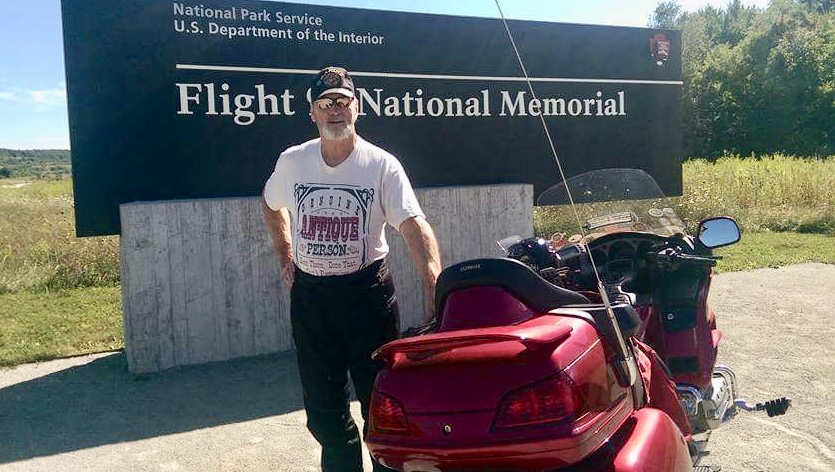 A Very Easy Rider
TLD's Dickerson spends his down time seeing all the USA on his motorcycle
By Al Muskewitz
Wright Media Editor-in-Chief
The recreational activities an over-the-road truck driver pursues on his home time to relax are as varied as the drivers themselves. Some golf, some fish, some just use the time to hang out. One thing you might not expect after putting on thousands of miles on his 18-wheeler is going right back on the road and doing it for leisure.
But when time permits you'll find TLD Logistics driver Russell Dickerson back out there, touring the backroads of the country on his Honda Gold Wing 1800 motorcycle.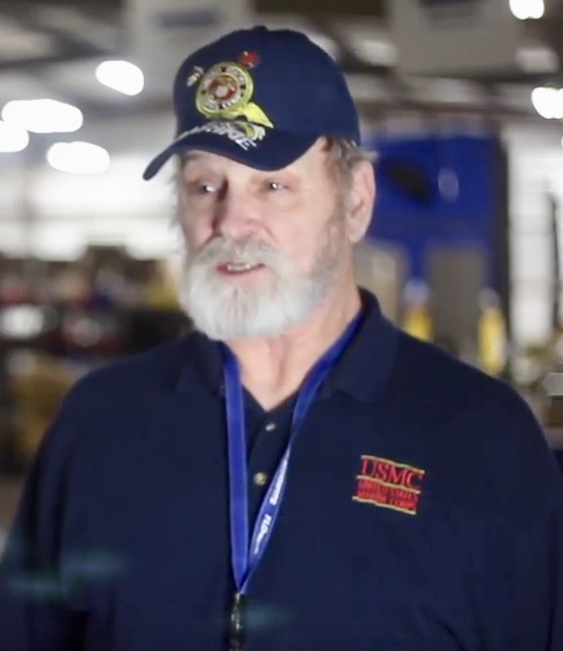 As a member of the Iron Butt Association, Dickerson takes extreme pride in being one of the "world's toughest motorcycle riders."
He's part of an elite group of endurance riders who'd think nothing of jumping on the bike on a Friday evening and heading out for points unknown 500 miles away returning early Monday morning, in his case, just in time to start another 3,000-mile week as a TLD regional driver between Tennessee and South Carolina.
A 300-mile loop is an "easy ride" for him.
"I just like to be out there on the road, whether I'm on a four-lane or a two-lane," the enthusiastic 65-year-old from Fairfield Glade, Tenn., said. "Other people might not see any value in doing this because you're not on a tour, you're just on your own with how you want to do this. It's just you doing your own thing."
He's the first among group's 60,000 hearty souls worldwide to complete a 1,000-mile ride in 24 hours through each of the Lower 48 states. It took him 11 years – 11 years, 1 month, 25 days, to be exact – 73,531 total miles (49,388 within the states) and two bikes. His "personal quest" started in May 2006 in Tennessee when the challenge was introduced and wrapped up in New Jersey in July 2017 – done mostly on weekends and in his spare time. He received his certificate for completing the adventure in Daytona Beach and, of course, rode his bike to get it.
"I was going to stop at 20 or 25 (states)," he said. "One of the older mentors said you can't do that; I had to keep going. He saw that in me."
The rides have literally taken Dickerson to the four corners of the country, if not always to the exact corner. Not only does the exercise test his endurance, but his navigation skills; if you need West Virginia to complete the list and you mistakenly cross that little sliver of Pennsylvania or Maryland that splits the state you've got to start all over again. Multiple round trips on the same highway to collect mileage is strongly discouraged and sometimes rejected for certification.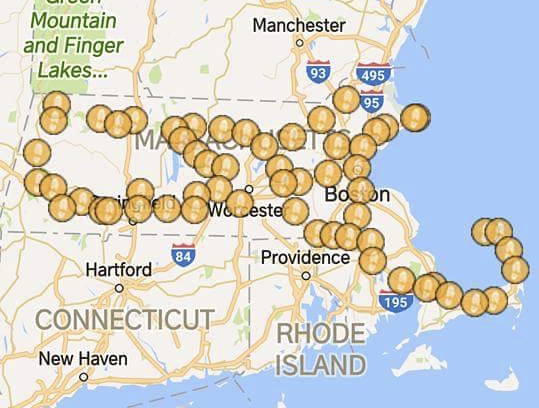 And the organization doesn't just take your word for it. There are strict rules to the challenge, including securing witnesses and collecting receipts marking date, time and place so the trip can be monitored and confirmed. And the trip doesn't begin until you reach that state's designated start point, so the 1,100 highway miles between Dickerson's home and, say, Glenrio, N.M., on the Texas-New Mexico line – or the 1,800 miles coming back from Idaho – don't count for that particular ride.
"The logistics of this is a nightmare to a working person," he said.
Dickerson has been riding motorcycles since 1969 and figures he's made 70 runs within the IBA's 129 certified endurance rides in his lifetime. He estimates he's logged a half-million miles on the five bikes he's owned. He figures to have between 4 and 5 million miles in the truck and he's been a professional driver for 44 years. He's been with TLD since 2013.
Being a long-haul truck driver certainly helps him handle the volume of miles being put underneath his wheels and the solitude of the quest, but it's not certain how many truckers follow his pursuit.
"In truck driving the destinations are made by your pickup and delivery," he said describing the difference, "but in this kind of ride you basically enjoy. I try to find something significant inside the borders of that state to see."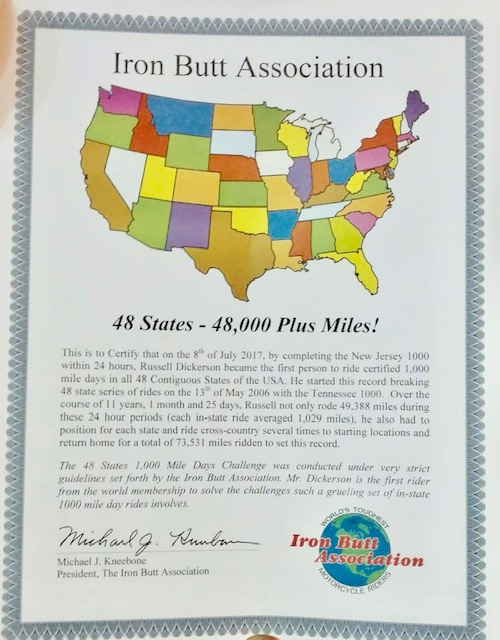 Among his favorite rides in the 48-state challenge were going all the way to Provincetown, Mass., at the end of Cape Cod; visiting Cape May, N.J., the Victorian southern tip of the Garden State; reaching Madawaska, Me., one of the four national corners; and seeing the Bonneville Salt Flats and Moab, Utah. Among the most uncomfortable was starting (and stopping) a tour through New England in sub-freezing spring temperatures; he ultimately broke it up into two separate weeks.
He came within 12 miles of the Northwest corner stop, Blaine, Wash., but it was 1 a.m. when he got there and he skipped it because, "I don't think I'd enjoy anything at 1 in the morning." (The other two corners are San Ysidro/San Diego, Cal., and Key West, Fla.). He's tried four times to go to New Orleans, but got sidetracked en route every time.
"I didn't do any of them I didn't like; I don't regret any decisions," he said. "I started my very first ride to the very last ride with the statement that if this ever fails to become fun I won't continue doing this."
He hasn't made it to Alaska and Hawaii. They are in the works and he admitted it would be a personal accomplishment to get them, but he'd almost rather spend the $3,000 he figures it's going to cost to do the final two on 30 other rides to see all that he missed the first time around.
And it's those roads less traveled he most avails himself on these long-distance rides. He may drive the interstates for a living, but he uses them on his motorcycle runs mostly at night for time purposes. He speculated he could ride 500 miles within his hometown Cumberland County and never leave the county, and in that lies a piece of advice he'd share for a contented life.
"You own a motorcycle, if you don't know every back road in your county you've failed yourself," he said. "If I were to tell an 18-year-old if you do nothing the rest of your life, stay off the interstate. Learn to read a map. Look at the blue lines, red lines and black lines (that define the various type roads).
"I always say to my friends I don't feel like I have to leave the United States to find all the roads I want to go on that I haven't been on yet."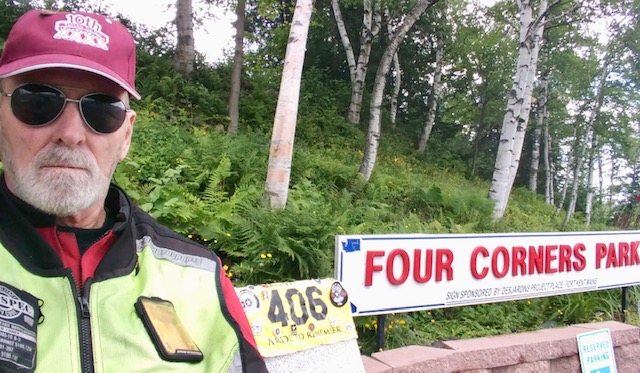 Top, bottom photos: TLD driver Russell Dickerson has taken his motorcyle to the Flight 93 National Memorial in Shanksville, Pa., the Four Corners Park in Madawaska, Me., and many more spots in between. Inset photos: Russell Dickerson (top), his 'motorcycle painball art' documenting his 1,000 miles through Massachusetts (middle), his IBA certificate commemorating 1,000 miles in 24 hours in all Lower 48 states.